FUNDING
Traveler: Ultimate Distraction-Free Writing Tool
Turn off distractions. Focus your thoughts. Simply write wherever you go.
PROJECT OWNER
Adam Leeb
New York, United States
1 Campaign
|
More
$290,634 USD raised by 874 backers
581% of $50,000
flexible goal
25 days left
BACK IT
OVERVIEW
PRODUCTIVITY
Say goodbye to writer's block! Traveler is the only device designed to help you focus on writing. Whether it's your novel, screenplay, or blog, write wherever you go.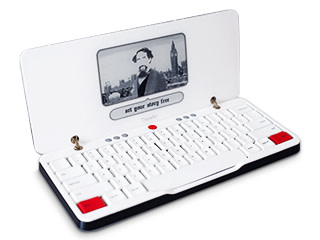 - 4-week battery life*
- E Ink™ screen
- Less than 2 lbs
- Full-size keyboard
- Folding design for maximum portability
- Syncs to Dropbox, Evernote, and Google Drive
- Zero distractions
Traveler is the newest distraction-free writing tool from the Astrohaus team.
NOTE: On Mobile, Click "READ THE STORY."
PROTOTYPE STAGE
STORY
FAQ
UPDATES 2
COMMENTS 38
BACKERS 874
We brought you the first modern distraction-free writing tool, the Freewrite smart typewriter, and now we are back with a new device that builds on all the feedback we have received over the past 4 years. Traveler includes all the distraction-free features of the Freewrite but is half the size, half the weight, and for a limited time, available at a significantly discounted price.
We've heard from customers over and over that writing without distractions has massively improved their productivity, in some cases as much as doubling their hourly word count.
Our lives are on our computers and phones, so it shouldn't be any surprise that using them is a constant reminder of other things we could be doing - checking that newsfeed, watching friend's stories, or responding to emails. As social media and entertainment companies spend billions in the war for our attention, we must fight back.
Traveler removes the ability to get distracted. There isn't a web browser, email client, or even any notifications which means all that energy required to resist temptation is now freed for a more useful purpose, your writing. The effect is real, and it works. Over 45 million words have been written on Freewrites including many published books and screenplays.

Studies have shown it takes 25 minutes on average to refocus on the original task after a single interruption. Without distractions, Traveler helps the writer get into a flow state and stay there.
When you're in the flow, nothing can stop you. Traveler puts all your attention on the written word. There are no settings to play with or fonts to pick, you can do all that stuff later at your computer. Traveler was designed to be part of a draft first, edit later, writing philosophy.

The idea is that by separating the creative and the critical, we can work more effectively. Draft on Traveler and with seamless syncing to the cloud, effortlessly transition to editing later on your computer. Once there you can still use your favorite editing programs like Scrivener, Final Draft, or Word.
At half the size of a conventional laptop, Traveler's compact size and weight make it your perfect everyday companion. Write whenever and wherever inspiration strikes.
Traveler is the world's first laptop to use an e-paper display which means you won't have to stare at the backlight of another computer screen. E Ink™ uses ambient light which makes it is easy on the eyes and won't wash out even in direct sunlight.
The Traveler's keyboard goes back in time to when laptops were designed for feel and not exclusively for slimness. Each key has nearly 2mm of travel and has just the right amount of resistance to make your fingers happy.
Hold a folder button and you'll see a brand new document launcher that lets you easily select drafts to work on within a folder. You can now archive, shred, and move documents all from the device. You can also bookmark drafts, i.e. an outline, so that you can quickly flip to them as references.
Use the [special] key to show information about your writing session. Write until you reach a word count or time goal.
Traveler supports Markdown syntax automatically allowing for rich formatting in your writing like headings, bullet points, and italics. Use it and you'll receive a fully formatted Word (.docx) or Final Draft (.fdx) file synced to the cloud.
Drafts are constantly saved to internal flash storage and, once connected to a Wi-Fi network, automatically synced to your favorite cloud services with secure 256-bit encryption. Work offline or online with ease. Traveler currently supports syncing to Dropbox, Evernote, and Google Drive.
Need QWERTZ, AZERTY, or another keyboard layout? We've got you covered. Traveler will ship with support for 30+ keyboard layouts configurable in software. Note, all keyboards will be printed with QWERTY on the keycaps.
The Traveler supports: English, English Intl, Colemak (EN), Dvorak (EN), Arabic, Bulgarian, Chinese, Czech, Danish, Dutch, French, French (Belgium), French (Canada), French (Swiss), German, German (Neo), Greek (Modern), Hebrew, Italian, Japanese, Korean, Latvian, Norwegian, Polish, Portuguese, Russian, Spanish, Swedish, Turkish
No matter what you're working on, Traveler's design will help you finish that draft.
Astrohaus is a product design company focused on creating high quality productivity tools. It was founded in 2014 when we launched our first product, the Freewrite smart typewriter, on Kickstarter. The project was a huge success, raising ~$342k, and ushering in a new era of distraction-free writing. Since then, thousands more Freewrites have shipped to writers in 50+ countries. Our mission is to invent unique, well-designed consumer products that make people's lives more productive and fulfilling. They must be timely and ideally, timeless. A guiding design principle is that function comes first. We pressure ourselves to think holistically about the user experience, often melding old with new. Our customers love the Freewrite; over 45 million words have been typed on devices globally. With Traveler, we're excited to grow the Freewrite family with the ultimate, portable writing tool. Astrohaus is a small team of dedicated craftspeople with offices in New York City and Detroit.
Travelers will ship worldwide. Shipping costs are based on your location and are provided at checkout. US orders ship free!
All items will be shipped Duties Delivered Unpaid (DDU) which means you will be contacted at time of delivery for all duties and taxes owed to your local government. If you are outside of the U.S. this is normal and you should expect to pay some duties and your local VAT. Up to now, there are no import duties into the US for Traveler but that could change depending on US-China relations between now and shipment. We will do our best to keep you updated if any new tariffs affect Traveler imports. Note: all customers will be responsible for any duties and taxes at time of shipment.
The first batch of Travelers are projected to start shipping in late spring of 2019. We will keep you up to date on production progress and when you can expect delivery of your order
Order now to lock in the best price and get Traveler as soon as possible.
Hit one of the buttons below and tag a friend, family member, coworker, or writing community who needs this! We can't do this without you.
Who created it? Astrohaus - The NYC and Detroit based company behind the award winning and critically acclaimed Freewrite Smart Typewriter
Why should we use it? The distraction-free design combined with the ultra-portable form factor makes Traveler the ultimate writing tool. Break writers block, and write wherever inspiration strikes you.
How much does it cost? Early bird pricing for Traveler is starting at $269. This is over 50% off the expected MSRP, so grab this deal!
If I already own a Freewrite, why would I buy a Traveler? Traveler is a fantastic tool to use in conjunction with your Freewrite. While you might prefer to work on the Freewrite at home, Traveler is designed to be your everyday carry companion. Both devices can sync to the same cloud, and also sync to each other. This means you can start a draft at home and add to that draft throughout your day whenever or wherever you feel inspired.
Will the Traveler have arrow keys? Yes! The Traveler will have hotkey enabled arrow keys to allow you to move your cursor.
What colors do you offer? Black
Can I access my files written on Traveler offline? Yes, you can plug Traveler directly into your computer via USB to access all your documents.
How long does the battery last? The Traveler battery lasts roughly 30 hours on a single charge.
How do I charge the device? The Traveler has a standard USB Type-C port.
Will there be updates to it in the future? Yes, firmware will be updated via Wi-Fi. Updates will be made available to all backers.
What keyboard layouts are available? Traveler will be available in both ANSI and ISO physical keyboard layouts.
When will I select my keyboard layout? Keyboard layout will be select after the campaign closes. You do not need to select keyboard layout at checkout.
Which keyboard layout should I select? Generally speaking: USA = ANSI Keyboard, Non-US = ISO Keyboard
What languages does the Traveler support? At the time of this writing, we have committed support for the following languages: Arabic, Bulgarian, Chinese, Colemak (EN), Czech, Danish, Dutch, Dvorak (EN), English Int, French, French (Belgium), French (Canada), French (Swiss), German, German (Neo), Greek (Modern), Hebrew, Italian, Japanese, Korean, Latvian, Norwegian, Polish, Portuguese, Russian, Spanish, Swedish, Turkish
What does it mean to support a language? This means that you will be able to type in any of the supported languages. All of the characters you need will be available on the keyboard in their usual places and will be displayed on the screen in the correct manner, as if you had a native keyboard. For example, German writers will have ä ö ü ß and Russian writers will have ? ? ? ? ?, etc. You will be able to choose one or many of the supported languages via our web application to configure your Traveler. All Travelers will ship with English characters printed on the pyhsical keyboard
How do I get documents off my device? Whenever the Traveler is connected via Wi-Fi, it automatically syncs your documents to your Postbox account. You can access your documents by logging into Postbox (https://postbox.getfreewrite.com) at any time. Postbox can also be integrated with cloud services for easier access. You can also connect your Traveler to your computer and download your documents directly, without an internet connection.
What is Postbox? Postbox (postbox.getfreewrite.com) is our web application for Freewrite and Traveler. All of your drafts from your Freewrite, Freewrite Traveler, and Sprinter are automatically backed up to Postbox. You can log into Postbox to view your view/download your drafts, update your Traveler settings, and add different language keyboard layouts.
When will Postbox be available? Its available NOW, postbox.getfreewrite.com
How does Traveler connect to Postbox? Both Freewrite and Traveler connect to Postbox via Wi-Fi.
What if I'm not connected to Wi-Fi? Don't worry, your work is always saved on the device via onboard storage. We designed the Traveler to be functional with or without an internet connection so you can be anywhere and write. Everything gets synced the next time you connect to Wi-Fi.
I don't trust my documents in the cloud. Can I still use the Traveler? Of course! You can directly connect Traveler to your computer via USB and transfer your documents offline.
What file format does Traveler save into? Files are saved in plain text format for maximum reliability, minimal file size, and longest anticipated support life.
Do I have to pay for Postbox? Postbox is currently a free service for all Traveler and Freewrite customers
How is my privacy protected? Documents are synced via 256-bit SSL encryption.
How secure is it? We use the latest on-device and cloud security measures to keep your documents safe
When does shipping begin?
When does shipping begin?Shipping will begin in late spring of 2019
When can we expect it to reach our doorsteps? In early summer.
Where does it ship? It ships all over the world!
How much is shipping? Shipping is free for US customers (Ocean transit). Shipping costs vary for all international customers. Customers will also be responsible for any import duties and taxes.
I'm interested in a distribution partnership. Contact us at This email address is being protected from spambots. You need JavaScript enabled to view it.
Do I have to pay VAT / GST? All items will be shipped Duties Delivered Unpaid (DDU) which means you will be contacted at time of delivery for all duties and taxes owed to your local government. If you are outside of the U.S. this is normal and you should expect to pay some duties and your local VAT. Up to now, there are no import duties into the US for Traveler but that could change depending on US-China relations between now and shipment. We will do our best to keep you updated if any new tariffs affect Traveler imports. Note: all customers will be responsible for any duties and taxes at time of shipment.
What are the risks & challenges of getting the device today? With any device that isn't already being manufactured, there is always an inherent risk of delay. With that being said, we have a lot of experience developing E ink writing devices, and are confident that we will deliver on time.
What is your return / exchange policy? Once your reward has shipped, no refunds or returns will be allowed for IGG backers
How do I choose more than one reward? Indiegogo does not allow backers to select multiple perks in a single transaction. As such, if you'd like to claim multiple perks, please make a new contribution for each perk. If you are having trouble, email us at This email address is being protected from spambots. You need JavaScript enabled to view it.
Why do I have to wait longer than usual? These are not just pre-orders: You're helping to build the device, and we need to know how many to make before we can start production. This is the first of its kind, and you'll be glad you waited. We will send you updates while we work to produce the first batch.
If I have other questions, who should I contact? All inquires can be sent to This email address is being protected from spambots. You need JavaScript enabled to view it.
Looking for more information or have a question? See the FAQ
Be first people review it.